Google Play Store has now 2 million Apps available !
According a study from Sensor Tower, Google Play Store has now more than 2 million Apps and Games available ! The graphic below show the incredible evolution of that number since December 2009 until February 2016 passing from 16,000 apps to 2 million now.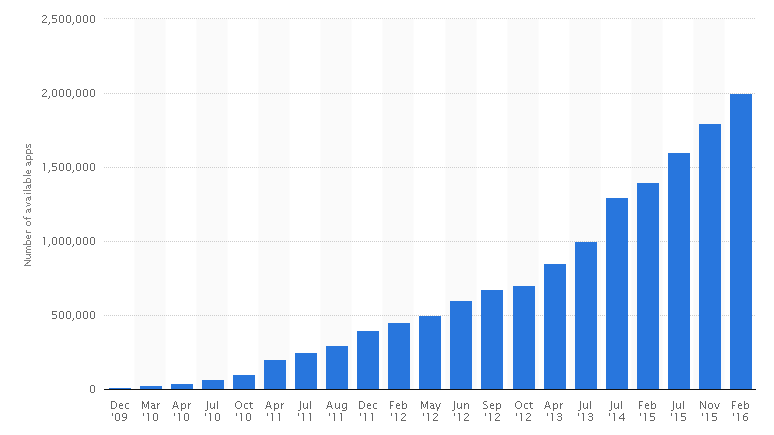 Data show also an evolution for the distribution of free and paid Android apps in the Google Play Store. In 2009, 60.8 percent of all Android applications were free of charge, whereas now it's near about 68.8 percent. Note also that 98 percent of revenue is generated through free apps and free apps with IAP (In-App Purchases). Only one percent of revenue was generated from paid apps. So, you know which monetization model is the good …
Report says also that there were 11.1 billion downloads made from the Google Play Store during the first quarter of 2016. It's a 6.7 percent increase from the same quarter last year in 2015. Besides, the number of games in the Google Play Store equals five times the number of tools-related apps. The biggest growth category during the same period was photography with a 20 percent increase. Good to know.
By looking to individual apps, we can get the top 20 from US Downloads on the Google Play Store during Q1 of 2016 :
Facebook Messenger
Facebook
Snapchat
Candy Crush Jelly Saga
Pandora
Color Switch
Instagram
Piano Tiles 2
Netflix
YouTube Music
Google Photos
WhatsApp
Spotify
Super-Bright LED Flashlight
Kik
Wish
Subway Surfers
360 Security
Pinterest
musical.ly
Like you can see, it's better to be a social app to reach the Google Play Store tops. Whereas these numbers are not official numbers provided by Google, there are certainly accurate and must be considered as good indication of the state on the Google Play Store at the beginning of 2016.