Android is gaining market share over Apple's iPhone in the US, Europe and China
According to the latest report from Kantar, the marker research firm, Android is gaining market share over Apple's iPhone in certain segments of the global smartphone market, such as the US, Europe and China. Losses are not significant for the moment but it announces a new trend proving that Apple has some troubles to maintain the expansion rate reached with the iPhone 6.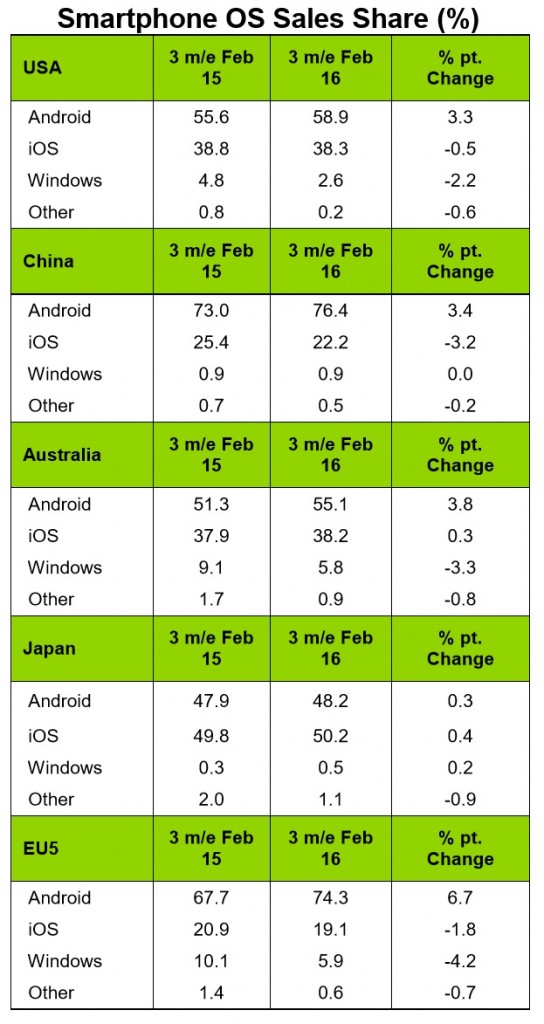 Smartphones OS Sales Share compiled by Kantar are based on data from three months ending February 2016. All changes are compared to same period last year ending in February 2015.
Like you can see in the table, biggest loss for iOS is in China where the Apple has lost 3.2%. Logically, the iOS fall profits to Android that gains 3.4% to 76.4% market share in China. Kantar has also mentioned that is the first time since August 2014 that Apple loses market share in China's smartphone market. In next months, we will look if the more affordable Apple iPhone SE could help the company the turn things around in China. It seems possible because more than 3.4 million customers have already pre-ordered the iPhone SE in China.
In the US, iOS has just lost 0.5% of market share. Biggest fall is for Microsoft and its Windows Phone OS that loses 2.2%. Windows Phones has now a market share of only 2.6% in US … In the same time, Android is always the biggest winner with a gain of 3.3%. Now, it accounts 58.9% of US smartphone sales !
In Europe, Kantar has compiled data for five largest markets that are Germany, the UK, France, Italy and Spain. The iPhone has lost 1.8% of market share while Windows lost 4.2%. At the same period, Android gained and impressive 6.7% to reach 74.3% of Europe 5 smartphone sales.
In Australia and Japan, iOS has gained respectively 0.3% and 0.4%. Windows is also in fall and loses 3.3% of market share. You can note also that iOS is always before Android in Japan for market share with 50.2%.
In summary, this new report shows that Android continues its expansion by gaining market share at the expense of Apple's iOS and Microsoft Windows Phone which is increasingly low months after months.