Say hello to World's cheapest Android smartphone on sale for $3.67 : the Freedom 251
Everyone is gearing up for Mobile World Congress 2016 but the real news of the week comes from India with announcement of the Worlds's cheapest Android smartphone that is now on sale for $3.67 ! No mistake in the price, no carrier contract subsidised, the price is really $3.67 !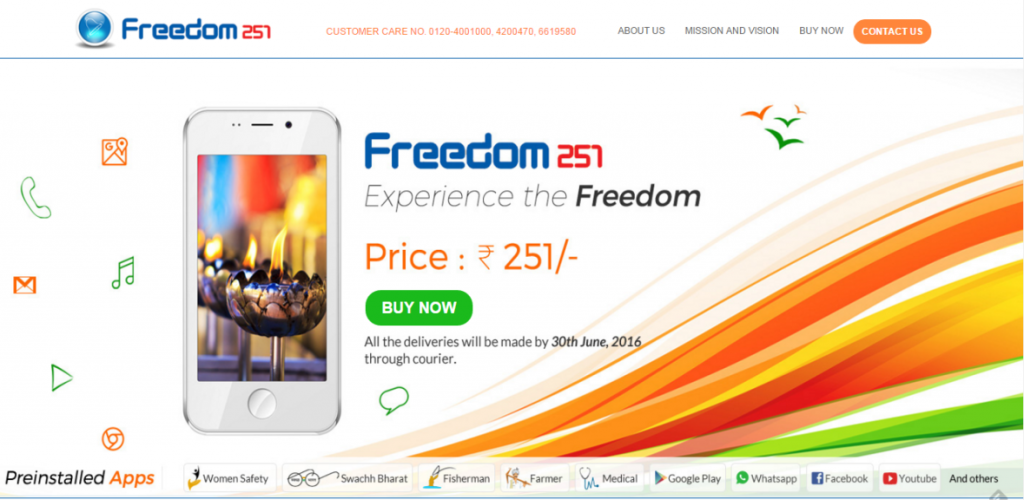 The Freedom 251, in reference to its price (251 rupees), is developed by Ringing Bells Pvt. Ltd a Noida-bases company in India. Freedom 251 comes with a one-year guarantee, and most surprisingly decent specifications. Look at these :
4-inch qHD IPS Display
960 x 540 Resolution
1.3 GHz Quad-Core MT6582 processor powered by MediaTek
1 GB of RAM
8 GB of Internal Storage
MicroSD expandability of upto 32 GB
3.2 MP rear camera with autofocus
VGA front camera
1450 mAh battery
Dual-SIM 3G support
As you can see, you're not getting a dumb phone either. Even better, the Freedom 251 runs on Android 5.1 Lollipop and will come with some preloaded apps like Google Play, Facebook, Whatsapp, Youtube, Medical, …
With an undoubtedly attractive price, main question is to know how it's possible for Ringing Bells to produce a smartphone with a so low price. May be an Indian Government subsidy ? Future will tell us more but for the moment, if you are an Indian, don't hesitate and enjoy the Freedom 251.