Q3 2014 Smartphones sales : Samsung and Nokia continue to fall, Huawei and Xiaomi continue to grow !
Gartner has just revealed Smartphones sales for Third Quarter of 2014. Globally, sales of Smartphones in Emerging Markets exhibited highest growth ever, while Western Europe continued to decline.
Besides, Samsung lost market share while top three Chines manufacturers combined smartphone market share grew by 4 percentage points !

1. Worldwide Smartphone sales to End Users by Vendor in Q3 2014 (Thousands of Units)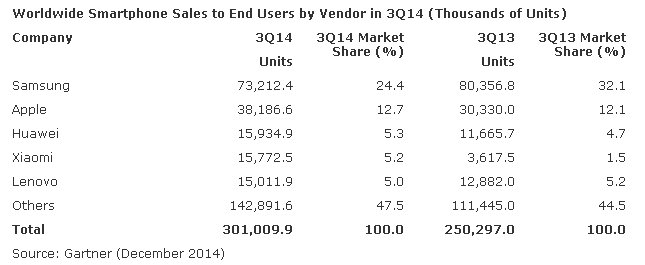 Sales of Samsung's feature phones and smartphones declined in the third quarter of 2014. Demand for Samsung's weakened mostly in Western Europe and Asia where Samsung's smartphones sales declined 28.6% in China, that is usually the biggest market for Samsung. So, black year continue for Samsung. However, they keep a top market share of 24.4% in Q3 2014.
Thanks to iPhone 6 and iPhone 6 Plus, sales of iPhones grew 26 percent in Q3 2014 for Apple ! With introduction of two large-screen phones for the first time, Apple has answered to users demands and managed to neutralize the advantage of Android competitors.
Biggest increasement is for Xiami who is just behind Huawei now in Q3 2014. It's first time Xiaomi appears among the top-five smartphone vendors. Increase is of 336 percent driven by strong performance in China where it became market leader.

2. Worldwide Smartphone Sales to End Users by Operating System in Q3 2014 (Thousands of Units)

In the Smartphone OS market war, Android continued to increase its market share domination with a rise of 22 percent. iOS if flat compared to the same period of 2013. Windows Phone seems to have lost its momentum with only 3.0%.

3. Worldwide Mobile Phone Sales to End Users by Vendor in Q3 2014 (Thousands of Units)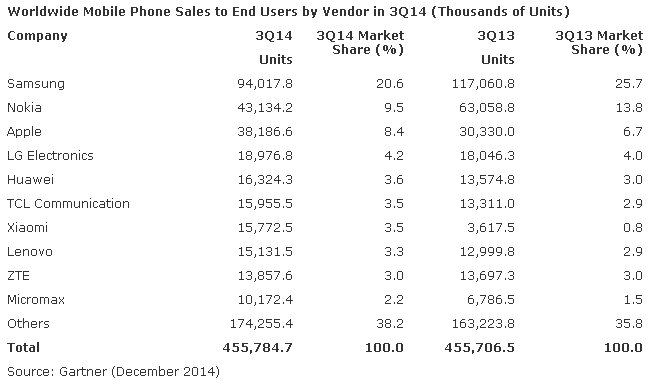 Worldwide mobile phone sales to end users totalled 455.8 million units in Q3 2014 and were flat compared to the same period in 2013. Mobile phone sales were up in all regions except Latin America (-7.4%), Western Europe (-13.5%) and Japan (-1.8%).
Samsung has known a big fall in Q3 2014. Nokia is also in the same situation with a loss of 20 millions of sales compared to Q3 2013. Apple is up with 8 millions more sales and is now just behind Nokia for Mobile Phone sales.
We can notice that the gap between the podium and others has also increased. Battle for fourth place is now between LG and Huawei but don't forget to follow Xiaomi that is to the 7th place and could take the 4th place during 2015 year.